About Heidi Howcroft
Landscape Architect, Author & Tour Guide
Born in Manchester and educated at the all girls comprehensive Whalley Range High School Heidi studied Landscape Architecture at Manchester Polytechnic. After a brief time spent working for Lovejoy & Partners Edinburgh office she moved in 1981 to Munich, Germany to work at the International Garden Festive, IGA'83 where she gained her professional qualification. Asked in 1984 to join the exhibition and trade fair department of the Handwerkskammer fur München und Oberbayern Heidi learnt valuable skills in exhibition design and curating under the mentorship of Peter Nickl. A passion for design and craftsmanship led to the first of her books on paving, a book that inadvertently launched a career as a garden writer and lecturer.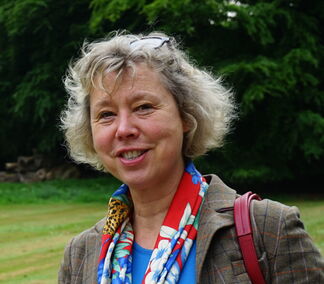 Her books are motivated by curiosity and a desire to get closer to a subject. She constantly draws on her own design experience honed whilst she had her own landscape design office in Munich and later after moving back to England in the late 1990s in her own garden in Somerset. The opportunity to design and lead garden tours on the luxury German cruise ship MV Deutschland opened new possibilities and encounters. Heidi has since specialized in tailor made garden tours, exploring and discovering fascinating gardens, landscapes and people, throughout Europe and beyond. Bilingual in English and German all her books were, with the exception of one book up to 2015, only available in German, with the publication of "Garden Design A Book of Ideas" and "First Ladies of Gardening" Heidi's work is now accessible to a wider international readership.
Heidi sees beyond trends to the heart of a garden or landscape and is always on the look out for exciting gardens with individual flair.
Membership of Professional Organisations
Contact
You can use the contact form here, or email Heidi at info@heidi-howcroft.com