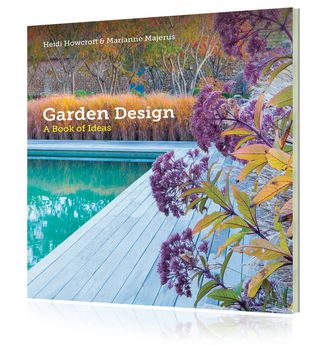 Garden Design: A Book of Ideas
A compre­hensive sourcebook of the best contemporary ideas for garden owners, architects and designers.
There is no one way to design a garden. The variations and breadth of possibilities are astonishing but it is the choices of the individual that make the world of gardens so exciting. Creating a garden is part common sense and part instinct but we all need inspiration to help us realize the garden we want. Garden Design: A Book of Ideas is the must-have visual reference for garden owners, architects and designers.
With over 600 images by award-winning photographer Marianne Majerus and incisive advice from garden designer and best-selling writer Heidi Howcroft, this book takes the reader from getting the concept right to choosing the perfect finishing touches for your outdoor space. The gardens featured are large and small, urban and rural in a wide range of styles from contemporary to classical to naturalistic.
Every aspect of designing a garden is explored, from assessing your plot and soil to choosing a style as your inspiration, selecting the right components (be they hard landscaping, boundaries or plants) and tackling more challenging spaces.
Publication date: 16 Mar 2015
Available at Octopus Publishing
Publisher in North America: Firefly - www.fireflybooks.com